Lord Cobbold Patron and founding Chairman of the SCT
11th May 2022
Former Patron and founding Chairman of the Stevenage Community Trust Lord David Cobbold has sadly passed away aged 84.
David was a key contributor in the founding of the Stevenage Community Trust in 1990 supporting the mayor, Hilda Lawrence's inspirational idea to establish our charity.
David served as Chairman for 15 years as an energetic, active, impactful, promoter, advocate and enthusiast of the trust. His influence attracted celebrities Barry Norman CBE as our co-founding President alongside Sir Nigel Hawthorne as our co-founding Vice President.
With David as Chair, our charity was able to secure the support from the major employers in the town at that time who became patron and founding members, including large companies such as British Aerospace, Dupont, Glaxo Smithkline, ICL, Norwich Union, Provident Mutual Assurance and Stevenage Borough Council.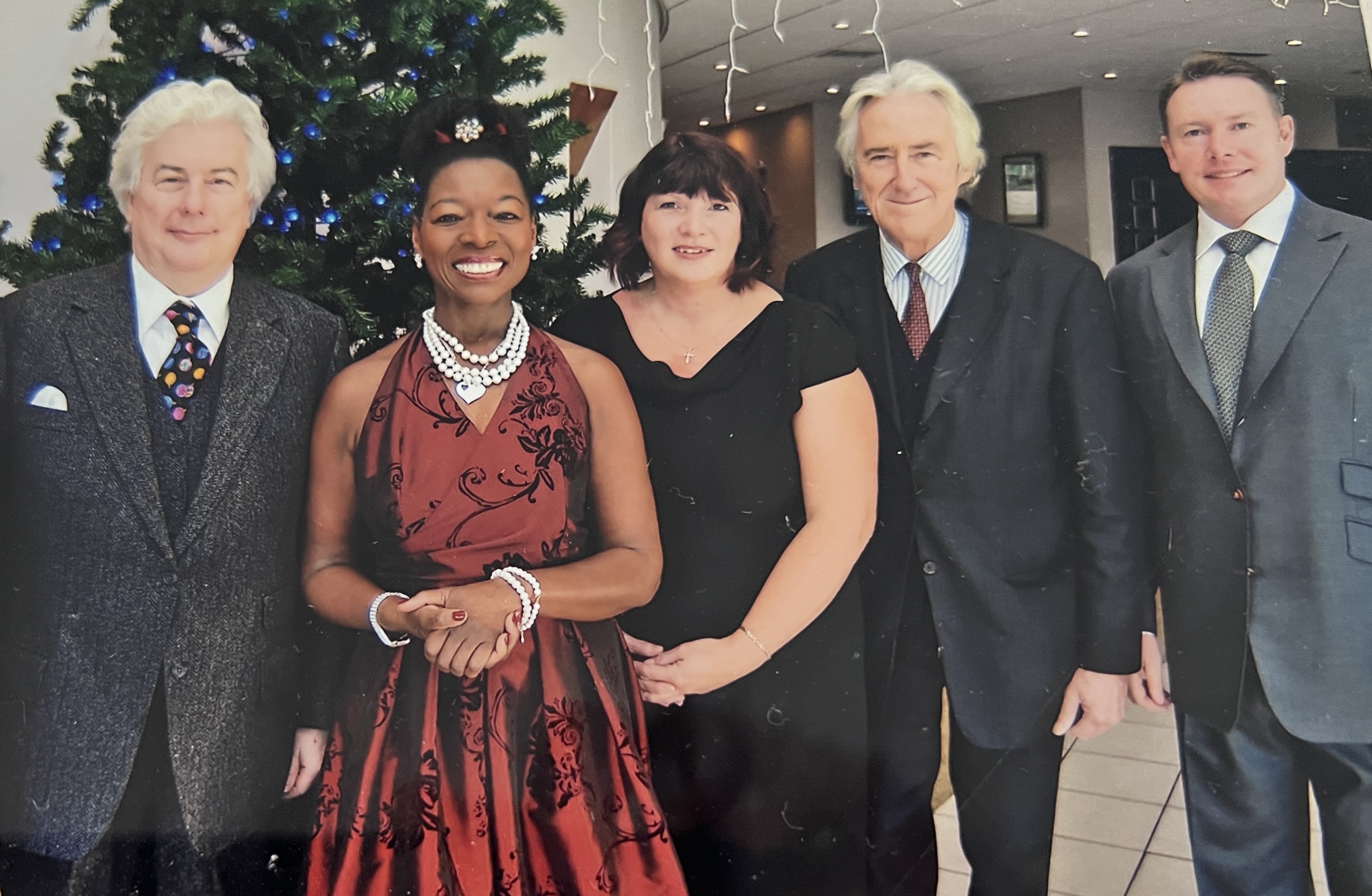 Ken Follett CBE, FRSL, Baroness Floella Benjamin, June Oldroyd, Lord David Cobbold & Rob Stewart at a Stevenage Community Trust event
Our charity has been able to give away £2 million over the last 32 years because of the successful launch under David's wise stewardship.
Rob Stewart our current Chair who was also a co-founding member of the trust through his company Stevenage Packaging said today, "David Cobbold has been with me at key moments in my life and I am privileged to have worked alongside him for the Trust. We first met through the Stevenage Community Trust in 1990 and I became instantly enamoured with the concept of the trust.
A year later in 1991 my company, Stevenage Packaging entered and was fortunate enough to win the Comet New Business Enterprise of the Year Award which David presented to me. As a 23 year old I was inspired by David's work within the community as I embarked on my own entrepreneurial and philanthropic journey".
Lord Cobbold presenting the Comet New Business Enterprise of the Year Award to Rob Stewart in 1991
David will be greatly missed by all of those within the Stevenage and Hertfordshire community who met with him and enjoyed his support in so many other walks of life. Our thoughts and prayers are with his wife Christine, son Henry, daughter in law Martha and their family at this very sad time."
Recent News
---
---
---
---
---
---
---
---