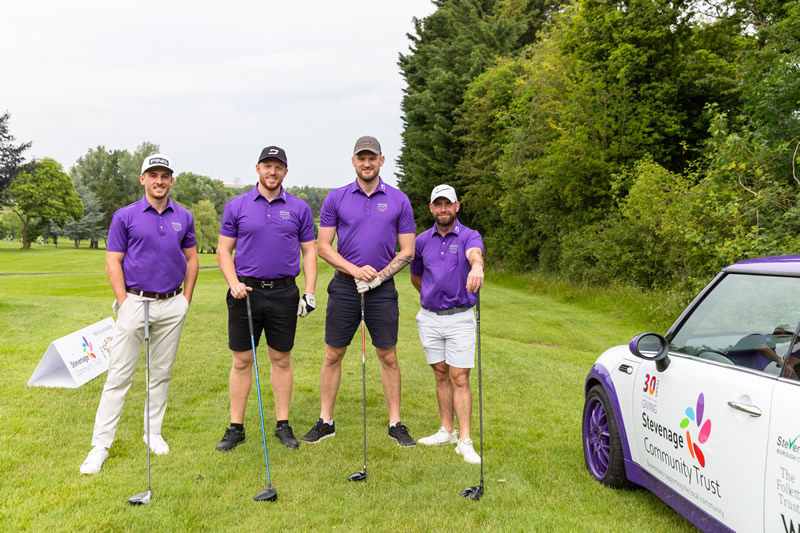 Stevenage Community Trust Annual charity golf day
1st July 2021
The Stevenage Community Trust annual charity golf day, sponsored by Tollers Solicitors, was held at Knebworth Golf Club on Thursday 1st July. The event has been running since 1991 and is viewed as 'Hertfordshire's Best Business Golf Day'. The day brings together individuals from across local business communities, and this year was no exception, with 21 teams of 4 taking part.
After a light brunch guests took to the course for 18 holes of golf, facing the challenges that awaited. This included the Champagne challenge set at the 14th hole. Players were challenged to hit the green with their tee shot at this most daunting of par three's. Hit the green and a bottle of champagne, courtesy of The Wine Society, was the prize. On the day a dozen or so of the 84 participants rose to the challenge and left with a bottle.
The course was in tip-top condition and the weather remained warm and sunny throughout the day which added to the enjoyment of all those playing in the competition. Following play, guests enjoyed a delicious BBQ dinner which was served on the patio overlooking the course.
Simon O'Shea, from One Facility Ltd, who generously sponsored the prizes, presented the trophy to the winning team from Stevenage Packaging Ltd and the runners-up from the Old Town Barbers. Winners of the yellow ball competition were the team from HRJ Foreman Laws Solicitors. Prizes were also awarded for 'The Longest Drive', 'Nearest the Pin' and 'Nearest the Line'.
Craig Harrison, Partner and Head of Corporate and Commercial Law at Tollers Stevenage office said of the day "Tollers are delighted to be associated with the Stevenage Community Trust and sponsor such a well-respected and long-standing local event. Supporting our local community is part of the Tollers ethos and, as such, we look forward to continuing our support and association with the Community Trust and the SCT Annual Golf Day".
The day proved to be a huge success and it was wonderful to break all previous fundraising records with over £8,800 raised on the day.
Caroline Haskins, Manager of Stevenage Community Trust said "I would like to thank our main sponsors Tollers Solicitors, The Wine Society and One Facility Ltd and to all those who contributed to the success of the event. It is only thanks to their support that we were able to raise such a substantial sum which will be used to provide grants to improve the lives of local people living in Stevenage and the surrounding villages."
Photo credit: Peter Hoskins Photography
Other Events
---
---
---